Life and Times of Thomas Millan
Ensign, Loudoun County, Virginia Militia
By William W. Price, Fairfax Resolves Chapter, Sons of the American Revolution
11 November 2010
Thomas Millan was born March 1, 17501 in Millstone Township, Somerset County, New Jersey. He died April 27, 18282 and was originally buried in Fairfax County, Virginia.3 Urban sprawl necessitated relocation of his grave. His body was re-interred in Fairfax City Cemetery in 1965. A Department of Veterans Affairs headstone has replaced the original.
Thomas Millan received his appointment as Ensign in the Loudoun County, Virginia Militia on November 8, 1779.4 The ranks of Ensign, along with Lieutenant, were subaltern5 officers to their company commander, who was appointed as Captain. Assertions that he, as Ensign, was color-bearer6 of his militia company are likely incorrect.
Thomas shared the date of his militia appointment7 with his neighbor and possible friend James Cleveland.8 Their coincident entry in the Order Books of Loudoun County has led many to conclude that they served together in the same Company.9 Surviving evidence does not support this conclusion. Eye witness accounts from Revolutionary War pension files state that Thomas Millan served in the Company commanded by William Lane; no reports exist of service under the command of James Cleveland. The first of these tours was in the year 1780,10 and is presumed to be associated with the call up of militia in October of that year to confront British General Alexander Leslie. Leslie arrived in Portsmouth, Virginia leading an expedition of 3,000. By November, he had left the area to join forces with Cornwallis in the Carolinas without confronting the militia gathered to oppose him.11 The movements documented for Captain Lane's militia company (from Loudoun to Williamsburg to York[town] to Williamsburg to Richmond and discharge)12 could well have reflected those by the British.
A second British force of 1,600 men under Benedict Arnold arrived in the Virginia Capes on December 30, 1780. Arnold and his men quickly reached Richmond on January 5, 1781, where he destroyed the military stores and public buildings in the city before falling back down the James to Portsmouth. Militia contested one detachment of this expedition near Petersburg and forced it to retreat. Arnold himself was ambushed on his way back to Portsmouth and suffered a slight loss.13 No surviving records indicate that Thomas Millan was involved in any of these military actions.
That changed later in the spring. Forces under the command of British General William Phillips left Portsmouth in April 1781, occupied Williamsburg, and proceeded up the Appomattox River. Opposed by General Peter Muhlenberg and his militia, Phillips successfully entered Petersburg on April 25. He arrived on the southern banks of the James River below Richmond on April 29, just as the Marquis de Lafayette arrived from the north with Continental and militia forces to deny him free crossing.14 Thomas Millan and the company of Captain William Lane were under the command of Lafayette and were present for the ensuing campaign.15 Cornwallis later arrived from the Carolinas and crossed the James at Westover, reaching Bottom's Bridge on the Chickahominy River on May 28th. Patriot reinforcements over the next month by General Anthony Wayne allowed Lafayette to more boldly shadow and check the movements of Cornwallis, who was ordered to assume a defensive position near Portsmouth on June 28.16 As a result, Thomas Millan's company and others serving under Lafayette were discharged that month.17
Thomas returned to duty in September 178118 as the combined French and American commanders began to surround Cornwallis at Yorktown. The French Admiral De Grasse defeated British Admiral Graves in the Battle of the Capes on September 5th.19 The allied army reached Williamsburg on September 14th, and they arrived with Washington in the vicinity of Yorktown on September 28th.20 A brigade of Virginia militia under the command of Brigadier General George Weedon was positioned across the river from Yorktown at Gloucester Point to block any escape from the siege.21 This brigade included the militia company of Captain William Lane and Thomas Millan.22 The capitulation agreement signed at Yorktown stipulated that prisoners of war would be kept by the Allies in Virginia, Maryland, or Pennsylvania until they were exchanged.23 Members of the Virginia militia marched their prisoners northward to Noland's Ferry in Loudoun County, where they remained on duty until December 1781. Thomas Millan and his company were discharged later that same month.24
Ensign Millan did not limit his support of the Revolutionary cause to his militia service. In 1780, the Virginia Assembly passed "An act procuring a supply of provisions and other necessaries for the use of the Army". This act authorized the governor of the state to appoint commissioners in each County to acknowledge receipt of materials and services for later reimbursement.25 Under the provisions of this act, Thomas Millan donated his time as a wagoneer, 1,100 pounds of beef, 50 bushels of rye, and cash payments of L900 sterling.26 In today's equivalent, that L900 sterling would amount to nearly $144,000.
Little personal information is available from the first two decades of his life. Thomas Millan arrived in Loudoun County in 1772,27 and married his first wife, Elizabeth Shedd in 1774.28 His first child, son William, was born in 1775.29 He was named guardian of his wife's younger brother, Jonathan, in 1776 when Elizabeth settled the estate of her father (who died in 1774).30 Five more children followed in the next fourteen years, the last born in 1790.31 Elizabeth died in 1791.32 Thomas was appointed Captain in the newly organized Loudoun County 57th Militia Regiment in 1793,33 and married his second wife, Susannah Summers in 1794.34 Their first child, Abraham, was born in 1795. Four more children were born over the next eleven years.35 Susannah passed away in 1808.36
Thomas Millan owned over 900 acres of land at the close of his life, and had been present for the birth of several of his grandchildren. He was a shareholder in both the Alexandria to Little River and Fauquier to Alexandria Turnpike Companies.37 Today's Little River Turnpike (Virginia State Highway 236) exists in part due to his foresight. His household clearly fostered a spirit of public service and enterprise both inside and outside of his family. Accomplishments of the Millan family and their descendents include deputy sheriff,38 fire company co-founder,39 lumberyard partner,40 militia Colonel,41 school commissioner,42 tavern owner,43 justice of the peace,44 member of Mosby's Rangers,45 and President of the Palmyra (Missouri) to Hannibal Railroad.46
The life and times of Thomas Millan reads like a who's who of Fairfax County and the American Republic itself. Accordingly, this final resting place of Ensign Thomas Millan, citizen and patriot, is being proudly recognized today by The National Society of the Sons of the American Revolution.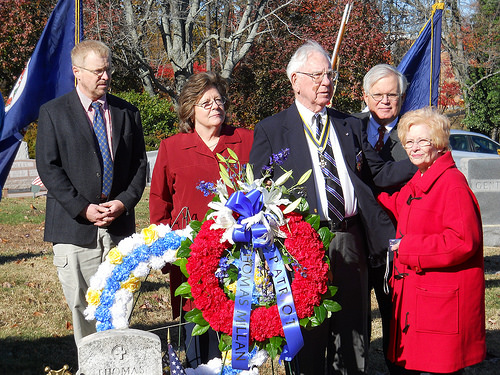 Attendees at the Fairfax City Cemetery in Fairfax, Virginia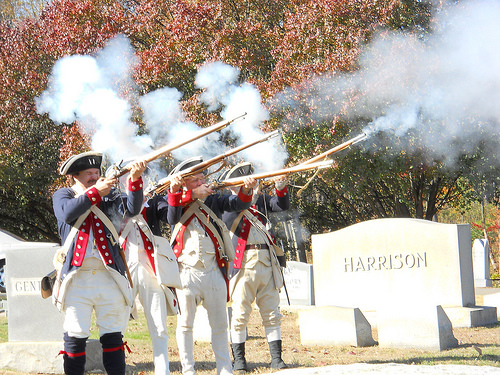 Members of VASSAR Color Guard fire a salute
Bibliography
1 Tricia Pettit, "The Millan Family of Fairfax County, Virginia" Northern Virginia Genealogy 5:1-4 (2000) 416.
2 Wesley E. Pippenger, Marriage and Death Notices from Alexandria, Virginia Newspapers 1784-1838 (Maryland: Heritage Books, Inc.) Volume I, 151.
3 Pettit, 416-417.
4 Loudoun County, Virginia, Order Book G:518, 08 November 1779.
5 www.dictionary.com. In the British Military, a commissioned officer below the rank of Captain was termed subaltern. See NARA M804, Revolutionary War Pension and Bounty-Land Warrant Application Files, Pension File of Philip Lovelace W.12145, 11.
6 Pettit, 417.
7 James W. Head, History and Comprehensive Description of Loudoun County, Virginia (Washington DC: Park View Press, 1909) 134.
8 Marty Hiatt and Craig Roberts Scott, Loudoun County, Virginia Tithables, 3 vols. (Georgia: Iberian Publishing Company, 1995) 1177. Both James Cleveland and Thomas Millan appear on the same "List of Tithables for Cameron Parish in Loudoun County for the year 1781 taken by Hardage Lane."
9 Fairfax Herald, 08 Oct 1937, p. 1, "Grave of Thomas Millan, a Revolutionary Soldier, to be Marked."
10 NARA M804, Revolutionary War Pension and Bounty-Land Warrant Application Files, Pension File of Thomas Dunbar S.30998, 3.
11 H. J. Eckenrode, The Revolution in Virginia (Boston: Houghton Mifflin Company, 1916) 264.
12 Dunbar, 4.
13 Eckenrode, Virginia, 264-265.
14 Ibid, 267-268.
15 Lovelace, 11; Dunbar, 4-5.
16 Eckenrode, Virginia, 268-271.
17 NARA M804, Revolutionary War Pension and Bounty-Land Warrant Application Files, Pension File of Nathaniel Barker W.5774, 5; Lovelace, 11.
18 Barker, 5.
19 H. J. Eckenrode, The story of the campaign and siege of Yorktown (Washington: United States Government Printing Office, 1931) 30-35.
20 Eckenrode, Virginia, 274-275.
21 Brendan Morrissey, Yorktown 1781 The world turned upside down (Oxford: Osprey Publishing, 1997) 62-75.
22 Dunbar, 4; Barker, 5.
23 Henry Phelps Johnson, The Yorktown Campaign and the surrender of Cornwallis, 1781 (New York: Harper and Brothers, 1881) 188.
24 Barker, 5.
25 Hening 10, Statutes of Virginia (1780), 8, An act for procuring a supply of provisions and other necessaries for the use of the army.
26 Janice L. Abercrombie and Richard Slatten, Virginia Revolutionary Publick Claims, 3 vols. (Georgia: Iberian Publishing Company) 602, 604, 617-618.
27 Hiatt and Scott, Loudoun County, Virginia Tithables, 619.
28 Thomas Millan Application submitted by Mrs. Willie F. Hubbard DAR #254208.
29 Pettit, 419.
30 Loudoun County, Virginia, Order Book F:591, 13 May 1776.
31 Mrs. Willie F. Hubbard DAR #254208.
32 Pettit, 416.
33 Don Blincoe, Sr., Loudoun County, Virginia Militia Journals 1793-1829 (Georgia: Iberian Publishing Company, 1993) 2.
34 Pettit, 416.
35 Mrs. Willie F. Hubbard DAR #254208.
36 Pippenger, Volume I, 33.
37 Will and Codicil of Thomas Millan, Fairfax County, Virginia Will Book P, 128-131.
38 Virginia County Court Records: Will Abstracts of Fairfax County, Virginia, 1798-1801, ed. Ruth and Sam Sparacio (Virginia: The Antient Press, 1992) 75.
39 T. Michael Miller, Artisans and Merchants of Alexandria, Virginia 1780-1820, 2 vols. (Maryland: Heritage Books, Inc.) 149.
40 Ibid, 304.
41 M. L. Richardson, Notes on George Millan, Gentleman (Fairfax County Archaeological Survey, March 29, 1983) 3.
42 Ibid, 6.
43 Miller, 74.
44 Richardson, 7.
45 Pettit, 429.
46 Ibid, 427.